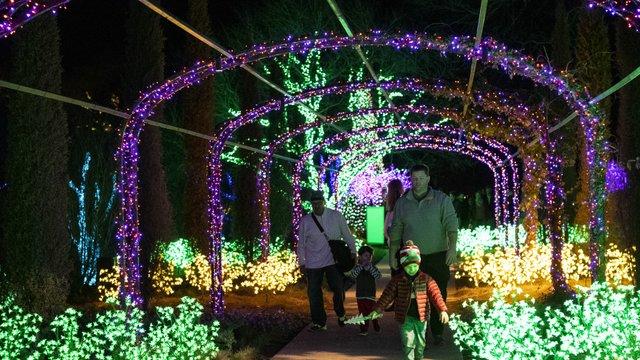 The December holidays, like all of 2020, are going to be a little different this year.
We probably won't have those jam-packed weekends of one party after another. The office holiday celebration is not going to be a rager (can you rage on Zoom?). Even the annual Nashville Christmas Parade is virtual. You know what is a completely safe, socially distanced, time-honored holiday tradition? Drive-thru Christmas light displays!
Pile your quarantine pod into your car with a third row of seats; grab the masks, the sanitizer, and the hot chocolate; fill up the tank; and check out our guide to the best places to see lights dance before your eyes.
The mammoth hotel, as always, has family-friendly festivities planned for the whole season, including three million lights twinkling at you. If you want to stay in the car, you can drive through the resort to see the trees adorned in white lights from the exterior facing Briley Parkway. If you're comfortable being out-and-about, you can buy a timed ticket (to assure social distancing and reduced capacity) for snow tubing, ice bumper cars, ice skating, and, new this year, I Love Christmas Movies, an immersive, walk-thru experience where you'll feel like you are inside your favorite holiday movies, such as National Lampoon's Christmas Vacation. Bundles start at $44 for adults; $39.20 for kids.
If you want the Christmas light experience, but want it to be a little different, these synchronized bulbs are just the ticket. Now in its 11th year, these 2.5 miles of lights create tunnels, dancing trees, candy canes and more to songs that are familiar, but with a different tune. Imagine a reggae "Jingle Bells" or "I Want to be Santa Claus" to the tune of "Macho Man" playing on your radio as you drive around. The festivities take place at Wilson County's James E. Ward Agricultural Center. Lines can be very long on Saturday nights, so if you have more flexibility in your schedule these days (as many of us do), come earlier in the week. The $25 per car fee is a lower price than last year—seriously, when does that happen? Return revelers, note that there will not be a Santa's Village this year due to COVID-19 concerns.
CHAD'S WINTER WONDERLAND
Chad Barnard really loves Christmas lights. For 39 years—since he was 12 years old—he's been putting on displays, with handmade wood cutouts, lots of lights, and plenty of creativity. His day job is as an appliance repairperson so he knows what to do when a particular light won't come on. Get ready to wind your way through a 14-acre display in Lebanon with about three million lights, including a drive-thru nativity scene and a Santa's Workshop. Barnard changes the displays every year, so even if you have been before, it's worth revisiting for the 65-foot computerized tunnel and more. $15 per car, $20 for commercial vans and limos.