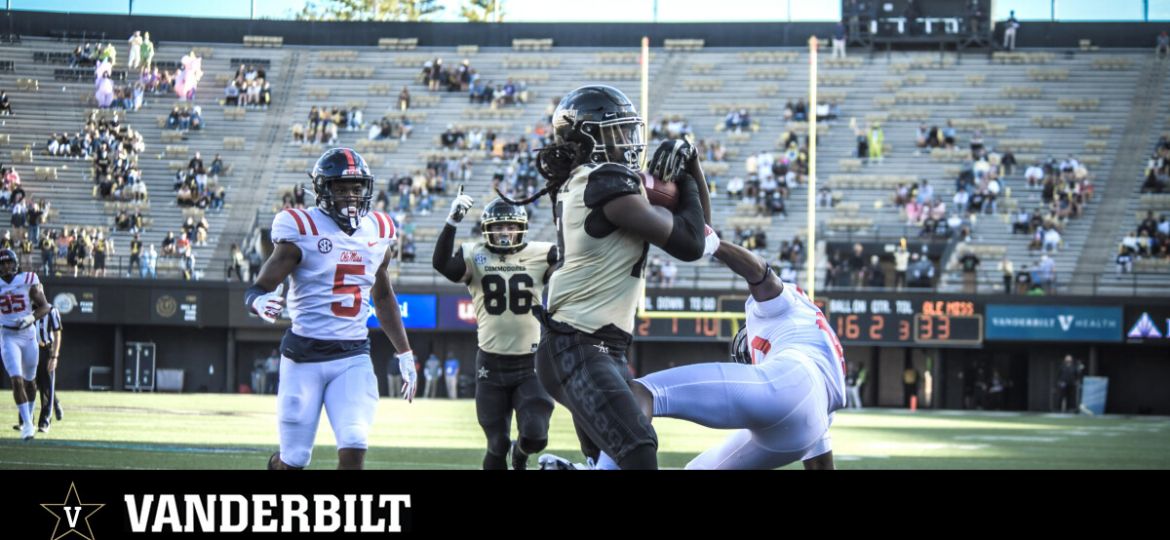 The Ole Miss offense was too much for Vanderbilt to overcome Saturday during the Rebels' 54-21 win over Vanderbilt at Vanderbilt Stadium.
A 21-0 lead in the first quarter helped Ole Miss take control of the game early. The Rebels wound up totaling 645 yards of total offense and averaged 8.2 yards per play. They also put together six scoring drives of at least 70 yards.
Vandy got within 33-14 in the second quarter, but could not get any closer. Freshman quarterback Ken Seals finished 31-for-40 passing for 319 yards with two touchdowns while wide receiver Cam Johnson caught 14 passes for 97 yards.
Keyon Henry-Brooks had 66 yards rushing and scored the game's final touchdown on a 1-yard plunge in the fourth quarter.
Vanderbilt (0-4, 0-4 SEC) next heads to Mississippi State for a 3 p.m. contest Saturday.
Ole Miss (2-4, 2-4 SEC) won the toss, elected to receive and quickly marched 71 yards for the game's first touchdown. Snoop Conner polished off the series with a 1-yard plunge into the end zone, giving the Rebels a 7-0 lead less than 3 1/2 minutes into the affair.
A 9-yard touchdown lob from Matt Corral to tight end Kenny Yeboah put Ole Miss up 14-0 with 2:49 to go in the first quarter. That play capped a 93-yard drive that took just 4:13 off the clock.
Exactly two minutes later, Corral threw a 36-yard touchdown pass down the right sideline to Elijah Moore giving Ole Miss a 21-0 advantage going into the second quarter.
Vanderbilt finally responded after that when Seals found tight end Ben Bresnahan on a 43-yard touchdown pass down the left sideline. A quick pump fake followed by a long throw to an open Bresnahan cut the Vandy deficit to 21-7. The grab was the longest of Bresnahan's career.
Moore scored his next touchdown with a one-yard reception that capped an eight-play, 77-yard drive and gave Ole Miss a 27-7 lead. Six minutes and 28 seconds later, Moore caught a 28-yard touchdown to put the Rebels ahead 33-7.
Vandy wasn't done just yet and had enough time left on the clock to put something together. Seals orchestrated an eight-play drive that ended with a 16-yard pass to Chris Pierce Jr. into the left side of the end zone.
The Commodores would have to settle for a 33-14 halftime score.
Seals finished 15 of 18 passing in the first half totaling 158 yards to go along with two touchdown throws. Corral was 22 of 25 for 318 yards and four touchdowns and the Rebels piled up 413 yards of total offense on 46 plays.
After Vandy was forced to punt to begin the second half, Ole Miss put together another long scoring drive that ended with Corral's 14-yard touchdown pass to Ontario Drummond. That put the Rebels ahead 41-14.
The Commodores fumbled the ensuing kickoff, which allowed Corral to add a 9-yard touchdown pass to Yeboah a few minutes later making it 48-14. John Rhys Plumlee connected with Braylon Sanders on a 37-yard touchdown pass before the end of the third period.
Corral finished 31 of 34 passing for 412 yards and six touchdowns while Moore caught 14 balls for 238 yards and three scores.