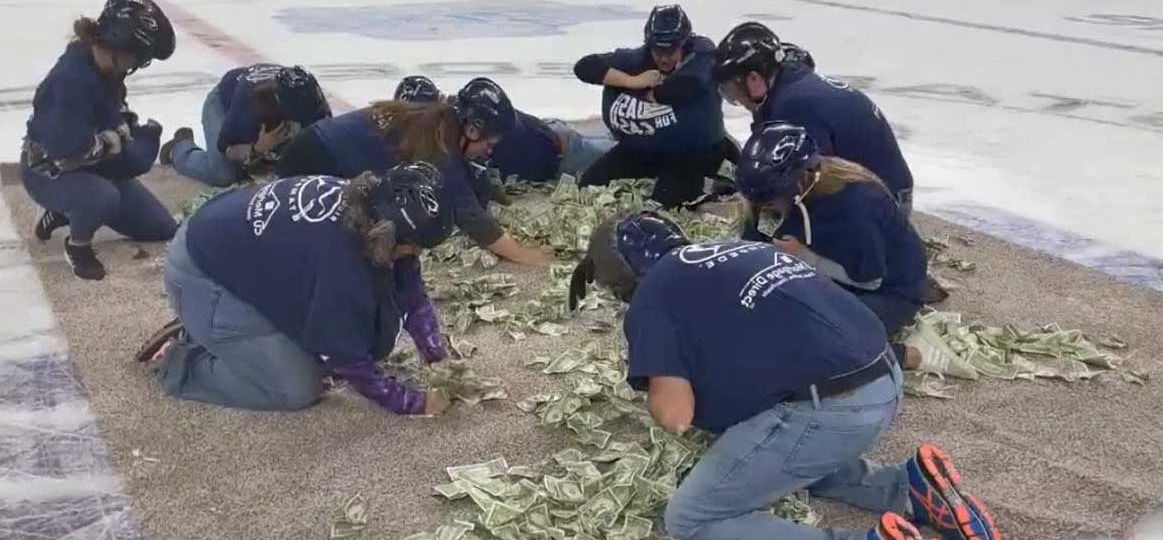 A truly dystopian event took place on Saturday night. During a break in play, 10 South Dakota teachers scrambled on the ice to collect as many dollar bills as they could in five minutes. The money they collected was to go towards their classroom or school.
Fans in the stands cheered the teachers on, but commentary online suggested the inaugural "Dash for Cash" was demeaning.
The junior hockey team promoted the "Dash for Cash" event where teachers from ten area schools, who had to apply, would compete to grab the most cash, according to reports.
CU Mortgage Direct donated $5,000 in one-dollar bills for the event.
The teachers also sold tickets to the game, and each ticket sold equaled a $5 donation to their school, according to reports.
"With everything that has gone on for the last couple of years with teachers and everything, we thought it was an awesome group thing to do for the teachers," Ryan Knudson, Director of Business Development and Marketing for CU Mortgage Direct, said. "The teachers in this area, and any teacher, they deserve whatever the heck they get."
Those who participated in the game, which has been compared to Netflix's Squid Game, were grateful for the opportunity.
"I think it's really cool when the community offers an opportunity like this for things that educations a lot of times pay out of pocket for," Alexandria Kuyper, a fifth grade teacher, said.
"I've been throwing my name in the hat everywhere I can find so that way I can get opportunities to get money for the kids," Barry Longden, who planned to use whatever money he grabbed for the e-sports club he coaches.
On average teachers in South Dakota earn $49,000, and their salary ranks 49th in the United States.
But when video of the event hit the internet and it went viral, the "Dash for Cash" did not go over well.
Many compared it to scenes from Squid Game or the Hunger Games trilogy.
After the five minutes were up the 10 teachers made out with a range of hauls. The highest amount taken home was $616, while the lowest was $378.
JUST IN: An arena in South Dakota is holding a "Dash for Cash" where teachers get on their knees and fight for one dollar bills that they can use for classroom supplies while spectators watch and cheer. (h/t @AnnieTodd96) pic.twitter.com/jIht84Ls9W

— No Lie with Brian Tyler Cohen (@NoLieWithBTC) December 12, 2021