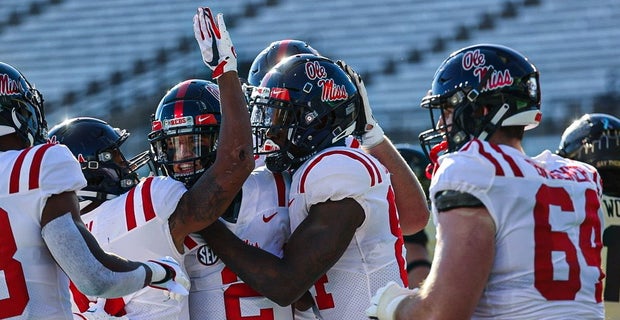 Ole Miss accomplished everything it could have wanted Saturday evening in Nashville. The Rebels started fast, finished strong and dominated winless Vanderbilt in a 54-21 thrashing of the Commodores. The game was never in any question after Ole Miss took the game's opening drive and marched 71 yards to the end zone in 10 plays.
It was a record-setting day for the Ole Miss offense. Quarterback Matt Corral completed 31-of-34 passes for 412 yards and six touchdowns, while playing turnover free. For his part, Corral was allowed to watch the fourth quarter from the sidelines. The red-hot sophomore sophomore connected on his first 19 pass attempts, breaking Eli Manning's school record of 18 straight completions. Corral's six touchdown passes tied Eli Manning for the most by a Rebel in a single game.
John Rhys Plumlee replaced Corral late in the game and joined in the TD parade. Plumlee's fourth-quarter scoring toss to Braylon Sanders was the seventh Ole Miss passing touchdown of the game, also establishing a new school single game mark.
The biggest recipient of Corral's big day was junior wide receiver Elijah Moore, who became the first Ole Miss receiver in history to register two 200-yard receiving games in the same season. Moore caught 14 balls for 238 yards and three touchdowns. He was targeted 15 times, more than twice as much as any other Rebel receiver on the day.
All told, the Ole Miss offense shredded the Vanderbilt defense for 645 yards.
Defensively, the Rebels held Vanderbilt to 421 yards and only three touchdowns, the last one coming in the waning minutes of the game after Ole Miss had pushed its reserves into the game. It was an admirable effort for a maligned defensive unit whose results seemingly keep improving each and every week. Still, though, Vandy true freshman quarterback Ken Seals completed 31-of-40 for 319 yards, two touchdowns and an interception.
Ole Miss roared out of the gates, took control of the contest and finished strong. It was everything that had been asked for. There is no arguing against that.