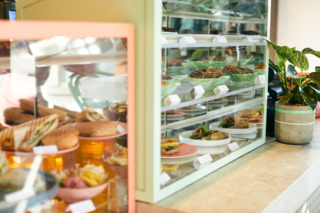 Moonshot Coffee opened its doors this week, and it's more than just another place to grab a cup of joe near the state Capitol.
Founding partner Scott Baird lives in San Francisco, and spends a lot of time in Nashville. He's worked on a number of projects here, including the former pop-up Christmas bar at the Noelle hotel. Baird was brought on to develop the food and beverage projects at TownePlace Suites Nashville, the new hotel on Gay Street that aims to bridge the space between downtown and Germantown.
The first to open was Moonshot, thanks to a number of talented Nashvillians who Baird knows — including Ellie Caudill, who curated much of the art for the space. Nashville native Jeffrey Rhodes, most recently at Liberty Common, is heading up the kitchens both at Moonshot and at Zeppelin, the hotel's rooftop bar and restaurant, which should open within the next month.
The Moonshot menu — which includes a quinoa-and-farro porridge at breakfast and a soba-noodle salad and carrot-and-raisin salad at lunch — is designed to be lighter and more vegetable-forward than you might find elsewhere, sort of a California take on coffee shop food. This doesn't mean you can't find more indulgent foods. There's plenty of bacon on sandwiches, plus a grilled-cheese sandwich and, my personal favorite, soft-serve ice cream. The pastry cases are designed, Baird says, with mirrors to give an "infinity" look to the selection of baked goods. Coffee is roasted in house, and the menu includes specialty coffee and teas, plus fresh juices.
The rest of the shop is thoughtfully designed, like the pastry case, with lots of natural light, live plants in hand-painted containers, tile floors, and 23 seats for sitting and working (at a safe social distance, of course).
Grab a shot of caffeine and a bite by Rhodes at 300 Gay St. It's open seven days a week, 7 a.m.-3 p.m. The coffee shop has a separate entrance from the hotel, and Baird hopes it will feed folks who live in the neighborhood. Special events (including monthly full-moon events) are in the works.