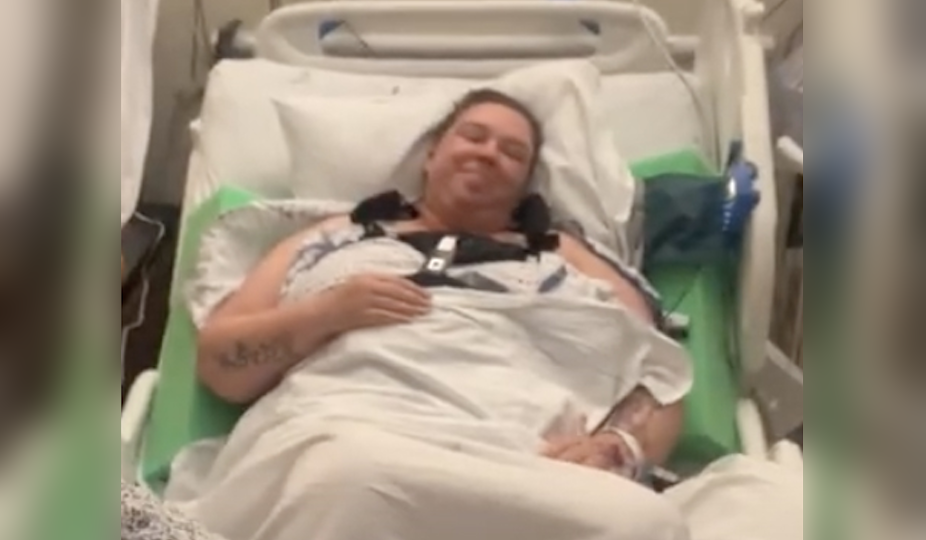 The 30-year-old mother says she has no regrets about how she handled the life-threatening situation, even though it left her temporarily paralyzed. The doctors told her that she shattered her T5 vertebrae, leaving her hospitalized and temporarily paralyzed, unable to walk. The woman is currently waiting for surgery. The doctors reportedly told the woman that after the surgery, she won't be able to pick up anything heavier than a gallon of milk, which means she won't be able to pick up any of her children. And despite the life-altering injury she sustained and feeling completely crushed, the mother of three said she wouldn't change a thing about how she reacted that morning.
Early Friday morning, the mother-of-three from Virginia, Crystal Dawson, went to prepare a bottle for her 6-month-old daughter. The woman then realized something was seriously wrong. A horrific electrical fire broke out while everyone slept. Had it not been for the 6-month-old baby crying, no one would have known considering the rental company had no working smoke alarms. Crystal and her husband, BJ, were able to get the baby out safely while heat so hot punted their hair off. BJ reportedly tried to go back in as his 9-year-old son and 11-year-old daughter were both trapped up stairs.
Crystal reportedly told FOX13 that her stepdaughter and stepson were able to access a window at the front of the house and escape through it onto a small roof. Crystal's stepson jumped from the roof, and she was able to catch him. Her stepdaughter, Brianna, was hesitant even though the roof was seconds from collapsing. Luckily, the 11-year-old girl, and her stepmother caught her too.
Unfortunately, they both fell backwards and the 30-year-old woman heard a pop. When paramedics arrived, she couldn't lift herself up on the stretcher. Crystal learned of her prognosis from her doctor while at the hospital. She discovered that she had broken her T5 vertebrae. She's temporarily paralyzed, but doctors believe she'll be able to walk again.
Crystal reportedly said: "I wouldn't change a thing. My daughter is safe and that's all that I was worried about. I've never looked at them as my stepkids. I've always looked at them as my kids."
Her husband posted an update on her GoFundMe Page and said that she's currently waiting for surgery.
A fundraising page has been set up to help the family as everything in their home was a complete loss. Brianna and her brother are living with their biological mother, while Crystal recovers in the hospital. BJ and his infant are living with other relatives at the moment.