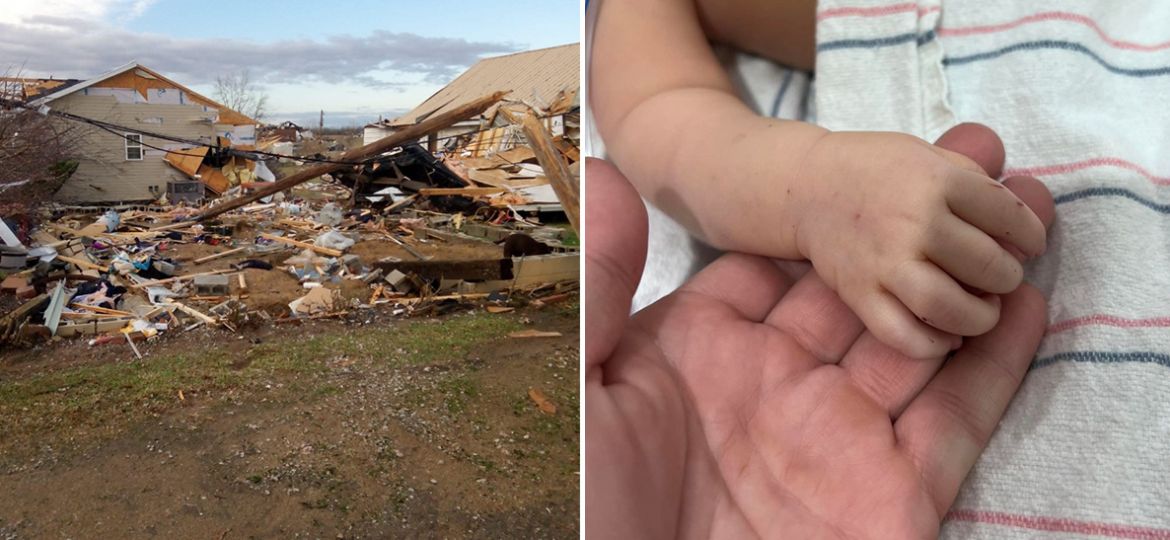 The family of the youngest victim of the recent Kentucky tornadoes, have spoken of their heartbreaking decision to turn off her life support. Reports confirmed that the two-month-old had succumbed to the injuries she suffered at the weekend when a tornado hit her grandmother's home.
Dad Douglas and mom Jackie tried to shelter their family – including their three children and Jackie's mother – in the bathroom of Jackie's mom's house in Kentucky.
When the tornado hit the property directly, however, the bathtub that was protecting two of their sons – Oaklynn's older brothers – was ripped out and tossed into the air, according to reports.
Little Oaklynn Charleigh Koon, meanwhile, had been placed in her carseat, as Douglas and Jackie thought this might give her added protection.
"We all went flying and ended up way on the other end of our neighbor's house," Jackie said.
When the storm had passed, she was found out in the open – still secure in her carseat – but her condition began to deteriorate and on Sunday she was rushed to hospital with what her parents thought was a seizure.
There, doctors found a bleed on her brain, and she was intubated after what they suspect was a stroke.
On Sunday, the Douglas family took to social media to offer an update on the situation. They did share that one of their son's had been released from hospital, but then added that the outlook for Oaklynn wasn't promising.
"It's not looking good guys at all," their post read. "The machines are keeping her alive. Her head swelled really bad. She doesn't have activity. So now where going to have to make a decision. I can't believe I'm writing this write now and I know I haven't got back to everyone. I've gotten so much love for my family. Donations, prayers, call, texts. We love you guys. It really does take a village. Wish I was saying better news and I really thought this was by far of what the outcome was going to be. I'm in shock, my heart feels absolutely shattered. We love you Oakie."
Tragically, early on Monday morning, Oaklynn's family confirmed that she had passed away after they turned off her life support.
Douglas said that he "didn't want her to suffer anymore", and that "he was struggling "to process everything that I'm going through."
An update on a GoFundMe for the family has asked for continued prayers for the family.