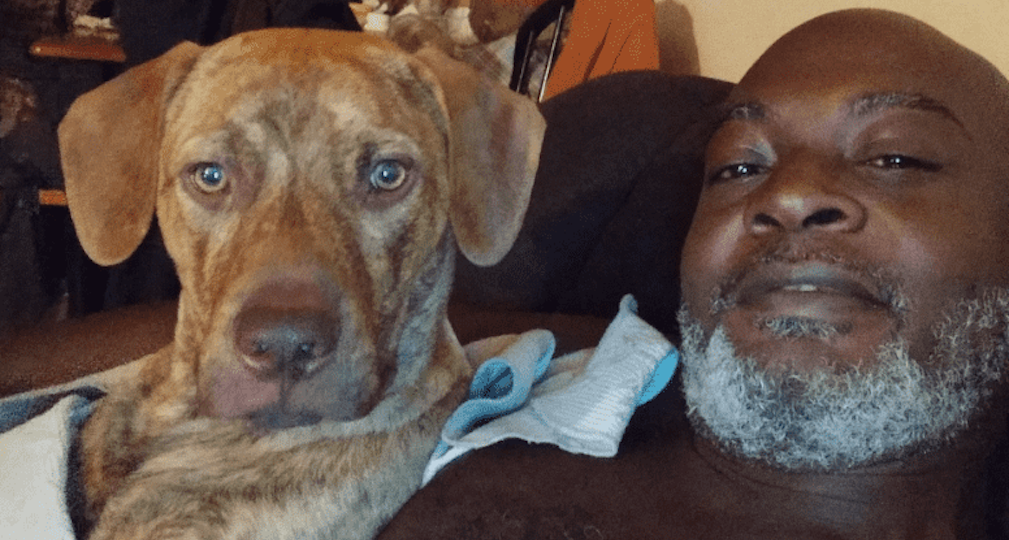 For this amazing man, his dog is indeed his best friend and for him, he is ready to give up almost everything. "Every day he looks at me — I know I am loved. I named him Duude because that's my dude. We have a close, close connection," said the man describing his close bond with Duude. The pair's relationship has strengthened over the past few months as they became homeless. And, if the surgery means saying goodbye to his dog, he is ready to go without the procedure.
"He's been hanging in there with me," said Donald Dickerson, who spends his days and nights at a campsite in North Carolina woods alongside his dog. The kicker here is that the man had an option to get a better roof over his head but that would mean giving up Duude. Thus, he chose to pass it up just so he could be with his dog. "
"I could have already had a place to live, but they wanted me to foster my dog. I'm not doing that," expressed Dickerson, who sadly has some health woes in addition to being homeless. His swollen knee has been giving him a lot of trouble for some time now. "It's painful. I have to walk on this hill every day," he said.
What Dickerson needs now is a partial knee replacement surgery, something that had been arranged up months ago, however, doctors informed him that they could not on him just yet. "When the doctors found out I was homeless they said we have to postpone it until you find a place to live because someone has to come out and take care of you," he explained.  
Unfortunately, he has not been able to find a place that will take in both him and his little Duude. But that hasn't held him back from trying harder. "I cannot give him up," he said, sharing his strong resolve. However, if the surgery means saying goodbye to his dog, Dickerson is ready to go without the procedure. "If I have to be homeless and go without my surgery and continue to go through the pain, I will, cause I will not leave him," he expressed.
Lane Miller, who was extremely taken by Miller's sacrifice, said, "It takes that special individual because they care more about anyone else than themselves." Miller developed a friendship with Dickerson after seeing him along Wendover Avenue as she drove to work every day. 
"I have been seeing this gentleman almost for the last year. I could see his smile through the mask — OK, and that's probably what did it for me," added Miller who reached out to many organizations and agencies hoping to help him out. "I was upset to know he didn't have a place to go but he was approved for surgery, so I started reaching out and I hit a lot of brick walls," she noted.
The Volunteer Center is currently working with other agencies to help Dickerson and Duude find a place they can call home. As the man waits for the day to arrive, he said, "If it wasn't for [Duude], I would have given up. If I have to continue to be homeless, and not get my surgery, I will do that because I'm not giving him up." A GoFundMe account has been set up for the duo.