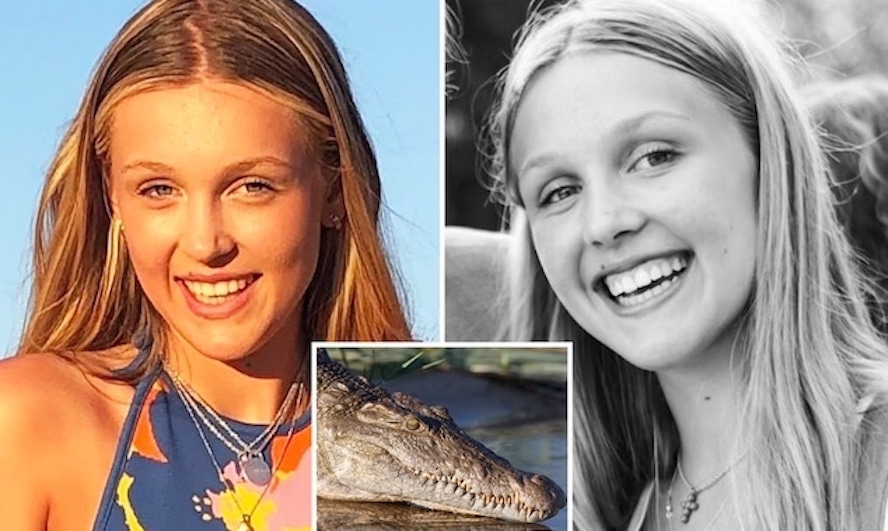 The 18-year-old student was happily enjoying a day of white water rafting unaware that a 10 feet long crocodile had set its eyes on her. Having been assured by the guides that the Zambezi River, which is situated close to Victoria Falls, was safe for swimming she rested her leg over the side of the boat. That's when the reptile slyly crept in and unleased a horrific attack on the young girl.
At that point, her "mind went into overdrive" as she began battling the crocodile to save her life. Her father, former Army Major Brent Osborn-Smith revealed that her unsuspecting daughter, Amelie Osborn-Smith, was sitting with her leg outside the boat when the beats clamped its jaw around her calf and began dragging her underwater. But the brave girl was not ready to give up just yet as she continued to put up a fight and ultimately managed to remain alive.
Explaining what was going through her mind during the attack, she said, "You don't really think in that situation. People say you see your life flash before your eyes, but you don't. You just think, 'How did I get out of this situation.' Your mind just goes into overdrive and you just think about how to get out." The teenager claimed that she was just very, very lucky" to stay alive despite her injuries.
It was her male friend who acted quickly after the crocodile grabbed Amelie's foot. He reportedly kept punching the animal's nose until it finally let go of her feet. At the end of the struggle, she was left with her "foot dangling loose," according to reports. She had to be airlifted to a hospital where doctors performed a life-saving surgery and even made efforts to save her shredded leg.
Understandably, the sudden and violent attack has left her with nightmares as she keeps getting flashbacks of the terrifying incident. "She has had continued flashbacks and terrible dreams at night," noted Amelie's grandmother who has been beside her ever since the incident. "Now it is better, but the first two or three days were bad." But even this has not dissuaded her from visiting Zambia again once she has made a full recovery because she does not want that one incident to "hold her back."
"I have seen that your life can be over so quickly. If you live thinking you're going to regret everything you're never going to have a fulfilled life. I always think don't let one incident hold you back," said the 18-year-old girl who recently completed her A-levels at St Swithun's School. "When the accident happened I fully accepted the fact I was going to lose my foot," she recalled.
"I said to all my friends, 'It's fine, I have lost my foot, I am still alive. Then I was told that my foot's gonna be fine, that I will be able to walk and it's just such a relief,'" she shared of her condition. Moreover, her father proudly revealed that the18-year-old "fought back with great courage and refused to be subdued or taken under." Brent also shared that Amelie did not lose consciousness at the time of the attack but remained strong despite the severe injuries to her legs and a dislocated hip.