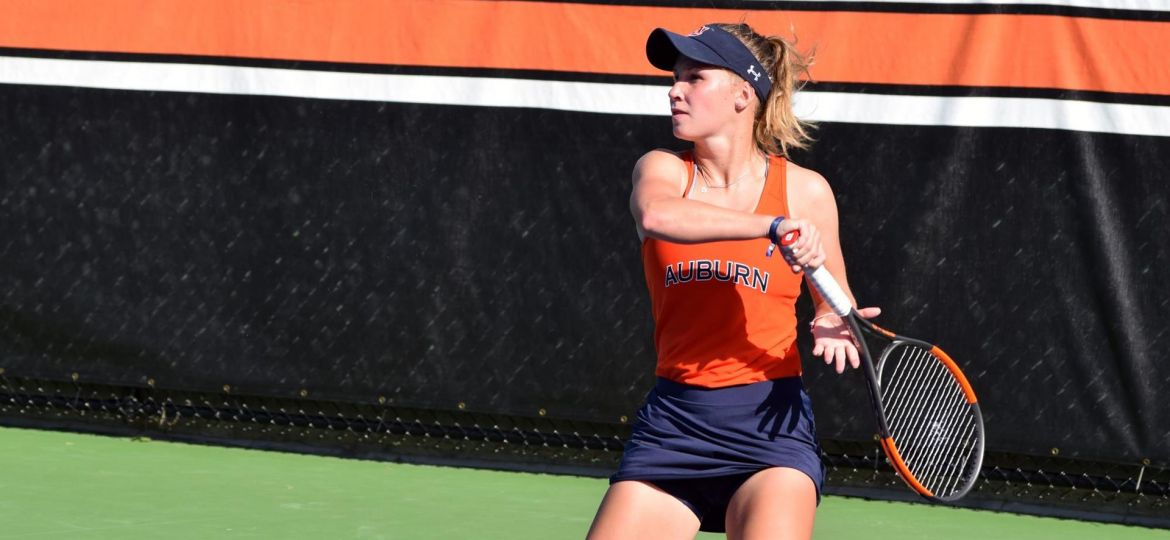 It was another five-win day for Auburn women's tennis Saturday as the Tigers continued their strong play at the June Stewart Invitational, hosted by Vanderbilt.
The Tigers picked up four singles wins and a doubles victory on the second day of the three-day event at the Currey Tennis Center.
"Great effort across the board today," Auburn head coach Caroline Lilley said. "Resilience is a choice and I loved how we responded to challenges. When we choose to be excellent in the areas we can control, the tennis will improve as the match progresses. The first step in learning to execute is to be willing."
Auburn claimed victory in four of six singles matches against opponents from Kentucky. Georgie Axon made quick work of Salsa Aher, 6-0, 6-2, and Adeline Flach also won in straight sets against Fiona Arrese, 7-5, 7-5. The Tigers picked up two other wins in three sets as Yu Chen battled back for a 4-6, 6-1, 6-4 win over Carlota Molina, and Selin Ovunc outlasted UK's Carla Girbau, 4-6, 6-1, 6-2.
Two other three-setters broke Kentucky's way. Carolyn Ansari dropped a 6-1, 4-6, 6-2 decision to Akville Parazinskaite, and Shir Azran came up short to UK's Elizabeth Stevens, 2-6, 6-4, 6-3.
In doubles play against opponents from Tennessee, Axon and Flach grabbed a 7-5 win over UT's McGiffin and Adeshina. Ovunc and Ansari fell 6-3 to UT's Briggs and Kuczer, and Azran and Chen dropped a 6-3 decision to Silva and Mertena.