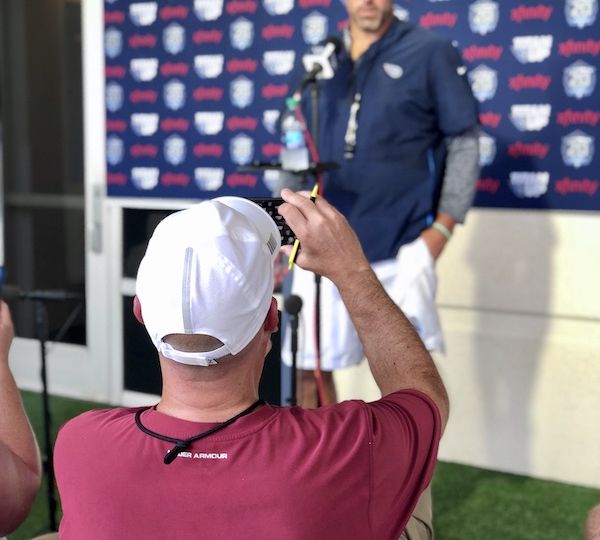 Among the slew of unknowns pertaining to NFL training camps, still slated to open in late July, is whether there will be any potential for media access.
I'm holding out hope that reporters will be allowed to observe practices from a distance so that we can share details and develop storylines, even as our conversations with Mike Vrabel and his players would still very likely take place via Zoom.
But I don't expect we will get a vantage point for camp practices. If we do, I worry it could be from a public broadcast feed from quite a distance.
While there is certainly a long list of issues facing the Titans and their NFL brethren as they sort through the complications of running their operations amid COVID-19, I'm going to shock you and say media access should not immediately be placed at the bottom of the NFL's list.
Careful and thorough consideration of this issue is not unimportant here.
There is going to be some sort of limitation on fans in the stands at Nissan Stadium. And so people interested in this team are going to be fed first by TV broadcasts of the game (perhaps with the Titans Radio broadcast serving as the soundtrack) and second by what is written, reported and analyzed about it.
And all of those things come, primarily, from first-hand accounting.
Mike Vrabel, as good as he can be with the media, is not going to step into a press session on Zoom and offer up that Adoree' Jackson pulled a hamstring, that Isaiah Wilson is looking slow-footed because he still needs some time to process things or that Corey Davis is fighting a case of the practice dropsies.
Everything, by all inside accounts, is going to be pretty great, coming along just fine, well ahead of schedule.
Some press will serve as partners in a game of catch, taking that in, adjusting their grip on it and tossing it back to those that consume their media product. The Titans are getting better at producing their own media material and in such circumstances, those could conceivably shatter the happiness meter given the sort of interview clips provided.
And those of us seeking to provide a real window and try to assess what we see – the good and the bad — are probably going to be looking through a blurry peephole.
We won't be able to ask about a specific guy we saw get hurt, giving Vrabel a much easier way to dismiss a general injury question. (The NFL should create a preseason injury information policy for those suffered during what would have been open practices, denoting at the very least that something happened.)
We won't be able to ask about a guy who's playing great or moving up the depth chart, because we won't have seen it, though that information is the most probable to be volunteered under general questioning.
We won't be able to ask about a guy who's struggling and sinking down the depth chart, because we won't have seen it, and that isn't going to be offered up under general questioning.
We will then be left to over-read what we see in the limited work starters by and other high-ranking players in preseason games. There may still be four of those but it seems more likely there will be two. It's another question that hangs above the preseason that has not yet been answered.
So if things are not open, there has got to be a reasonable compromise, where players and press alike are kept safe, but open practices are still somehow seen.My proposal would be this: Create a rotation of pool reporters out of primary print reporters, photographers and videographers. The practice would then produce a write-up, a selection of pictures and a reel from which other members of the press can select information to use.
Those three contributors can convene, at a distance, as practice concludes, to compare notes and assure the proper topics are raised during the interview sessions and that, if flexibility allowed for it, the proper player or players are available to address the issue(s) of the day.
It won't be the same as the sweeping coverage of everyone being out there, working his or her own thing.
But it'd be a lot better than none of us being out there, safeguarding us against both COVID-19 and overwhelming happy talk from the team — and preventing us from being surprised by who's in the lineup and who's not when the team finally hits the field.