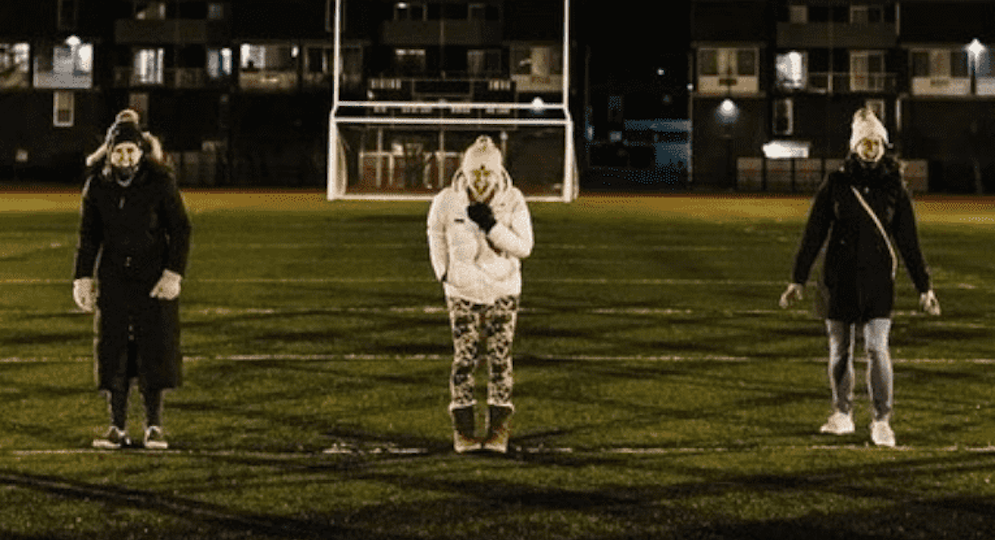 The pandemic has caused us so much stress. For mothers, burnout is so intense after having to struggle in an endless cycle of work and child care. So, a group of mothers came together to do something about it. Scream for 20 minutes in an empty school field! The group consisted of exhausted, frustrated, angry young mothers, screaming in unison to let out their pandemic-related stress. 
Psychologist and The School of MOM (Mothering Oneself Mindfully) founder Sarah Harmon organized the "primal scream" in Massachusetts. In her Facebook post she says "she helps teach women accessible tools to help them 'mother' themselves, with the foundational practices of mindfulness and self-compassion.
A scream is an intuitive natural way to move an intense emotion like rage OUT of your body, she said, adding, "Giving yourself permission to scream – especially in a community of other moms who GET IT can be so incredibly healing." For many moms the screaming is somewhat cathartic.
Jessica Buckley, a 36-year-old therapist and mother of 2- and 4-year-old daughters, ended up screaming the longest( that came up to 30 seconds!), according to reports. "I probably could've kept screaming," she said. "It's been a really, really tough time. We're still trying to navigate quarantines and stuff when the country seems to have moved on."
The pandemic has brought on a lot of stress especially towards mothers who's had to focus on child care, domestic work, career along with their own lives. While everyone's struggled over the last two years, it's been particularly hard for moms who often have no place to escape and no time to take a break. This group of Massachusetts mothers is hoping to find some ways of stress relief to help.
According to the Facebook page, they noted: About last night… It felt SO GOOD to scream with this group of women at the 50 yard line. Many of you came out for the second time (thank goodness it was a little warmer this year!) We screamed.
We yelled (A LOT) of profanities. And then we laughed. And that's the beauty of allowing yourself to feel and express an emotion. You move through it to find a new one on the other side such as relief, peace and/or joy. These are all emotions now resonating in my body thanks to last night. And as a wise mom (nice to meet you Ali!) said – it felt so good to feel out of control for a moment.
So many of us grieve and crave the spontaneity and freedom we had before kids. Kids bring structure and schedule and covid has brought rigidity and intense restriction that only exacerbates that non existent spontaneity and letting go of control. So last night we let go of the control together. And wow it felt good!