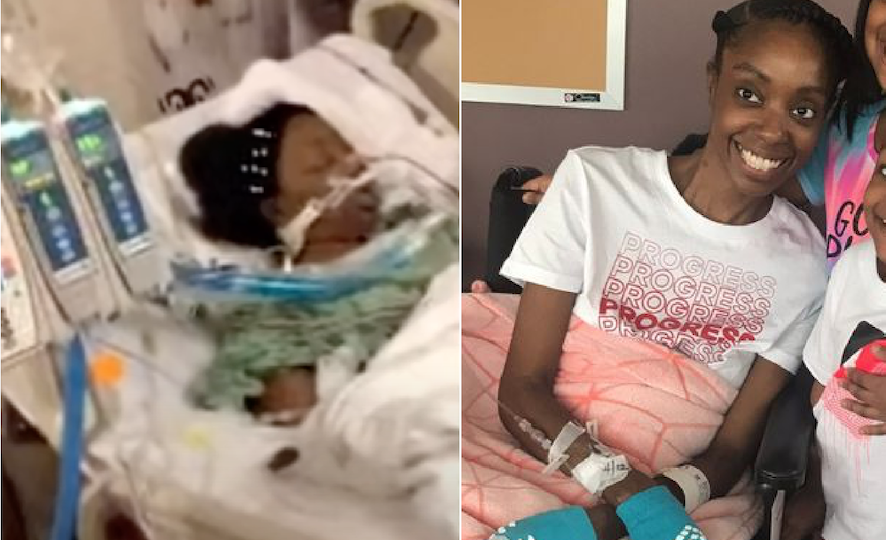 The young woman initially believed that her stomach pain was due to a bad period. But, after experiencing extreme stomach pains, the 30-year-old woman was rushed to the hospital where it was discovered that a stomach infection had become septic and was causing her complete organ failure. Unfortunately, she was left fighting for her life and was put in a medically induced coma for two weeks. The brave woman underwent a total of 28 surgeries and was in the hospital for a combined time of six months. She lost both her legs and all her fingers.
The young woman from Wisconsin, Kia, told The Mirror that in Feb. 2019, she reportedly woke up with severe pain in her stomach that gradually increased over the next few hours. Unfortunately, she thought that she was suffering from menstrual cramps. But, the pain didn't go away and she went to a hospital. The doctors told her that her blood pressure was dangerously low and doctors discovered an infection in her stomach which had resulted in sepsis.
After the emergency surgery on her stomach, the surgeons discovered the sepsis and told her family that all of Kia's organs were quickly failing. The doctors also told Kia's family that there was nothing else they could and she was transferred to a different hospital for another surgery, by which time she had already suffered two heart attacks. The doctors also said that Kia had less than a 1 percent chance of making it through this.
Kia's heart reportedly stopped 3 times while the medical personnel were preparing her for a surgery. The doctor's were racing to get as much blood as possible to her vital organs such as her heart and her brain, per reports. As a result, less blood was going to her limbs, causing them to die. Kia's right leg was her first limb to be amputated in a bid to save her life. Kia was put in a medically induced coma for two weeks, until she miraculously woke up on her own.
"I needed them to be gone so that I could focus on healing. So I had my left leg and fingers all amputated. I underwent a total of 28 surgeries and I was in the hospital for a combined time of six months." the brave woman reportedly said.
Kia lost both legs and her fingers, and underwent a full hysterectomy and lost most of her stomach. Kia has written a book, "Surviving Sepsis," about her experience. She said that surviving sepsis has forced her to grow as a person and has completely changed her perspective on life.
The 30-year-old woman reportedly told the Mirror: "I wasn't aware I had gone septic until it was way too late. Everything happened so fast. What I thought was menstrual cramps was actually sepsis taking over my body. I woke up with stomach pains on and off for a few hours, until the pain was so unbearable that I had to have my sister call an ambulance. My body locked up completely as the stabbing pains continued. Once I got to the hospital, I was put in the waiting room until they couldn't handle my screams.
I had CT scans, and the doctors discovered an infection in my stomach. It was urgent, so they took me into surgery. While being prepped for surgery, my blood pressure continued to drop – and my heart stopped. I was rushed into surgery, where I received my first amputation. During that surgery, I flatlined a total of three times, and was completely dead for eight minutes. The hospital advised my family that there was nothing more they could do. 
Once I arrived at the second hospital, the fight was down to me. I received some more amputations, but I fought. I was put in a medically induced coma for two weeks. I woke up on my own, to see that my left leg was gone and the right leg was completely dead. My fingers were stuck – cold, hard and black. After seeing the condition sepsis had left my body in, I was determined to get the other dead limbs off to avoid another infection.
My spiritual journey was so real that I ended up writing a book about it because I needed to make sense of what had happened. I then decided to model, because I wanted to show that people with limb differences are not 'foreign.' I am very confident in my body, soul and mind. After having my amputations, I've heard and seen all kinds of things – some good and some bad. It doesn't affect me, but there are so many people that look different and won't leave their house because the world can be so mean. I clearly do well under pressure, and I don't care what people think of me. I love my body, like everyone should."