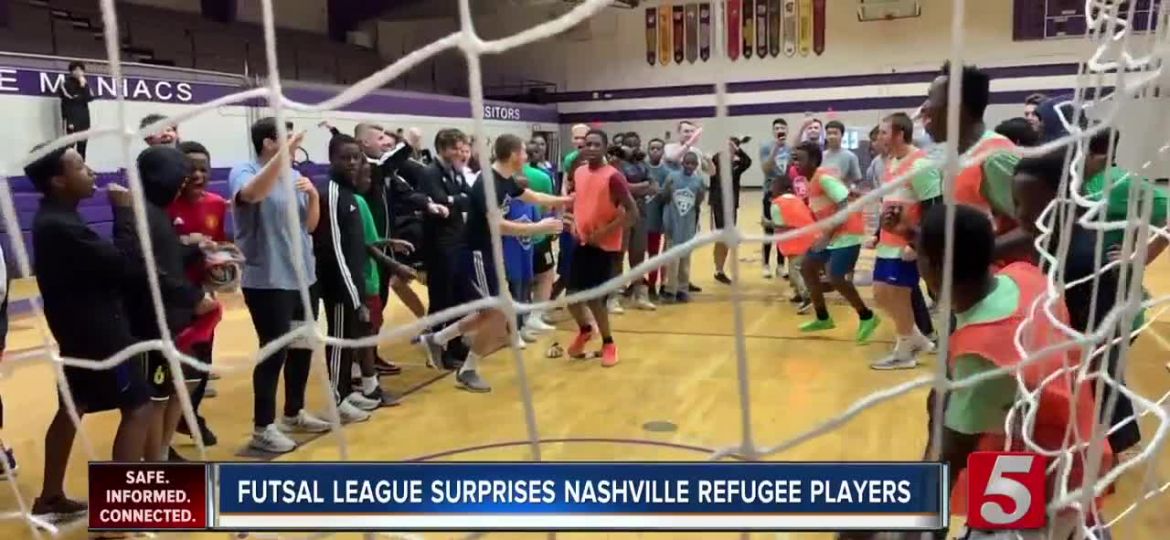 On a day where soccer is on the top of mind for everyone in Nashville, a group of players just wrapped up a winter season playing indoors, but it's probably unlike anything you've ever seen before.
The sport is called Futsal.
"Futsal is a brazillian form of indoor soccer," explained Trevecca Soccer Coach Danny Leavy. "It's really fast, the ball is weighted and so it makes it stay on the floor a little easier."
In a game like this, communication is key, which presents a unique problem in this league — all of the children playing, are refugees that now call Nashville home.
"I've got 12 countries on my program alone, and then when you add in all the kids from Carpenter Square, that's 20 different nations that just came together today," said Leavy.
Trevecca's soccer team hosts the league using a shoestring budget. In fact, most of the players don't have their own jerseys, which gave Cillian Farmer, a junior on the Trevecca team, an idea. Well to be fair, it was his mom's idea.
"We've got all different soccer clubs from England and Ireland," said Farmer. "She just came up with the idea saying it would be cool if you could get a gathering of jerseys from home and hand them out and pay them forward."
Farmer kicked around the idea, and eventually posted about it on Instagram. The result was beyond his wildest imagination.
"They sent all of this stuff over from Ireland for you guys,"Leavy announced in a post-game ceremony.
Three hundred jerseys and 50 backpacks were mailed across the pond, landing on some happy shoulders. That only proves smiles and soccer, transcend all boundaries.
"They definitely love getting the jerseys, no doubt about it, but the fact these guys keep coming back for year after year to play with them on a Monday night, means the world to them," said Leavy.
Saturday was the final day of the Trevecca Carpenters Square season. They've been running the league for three years now.