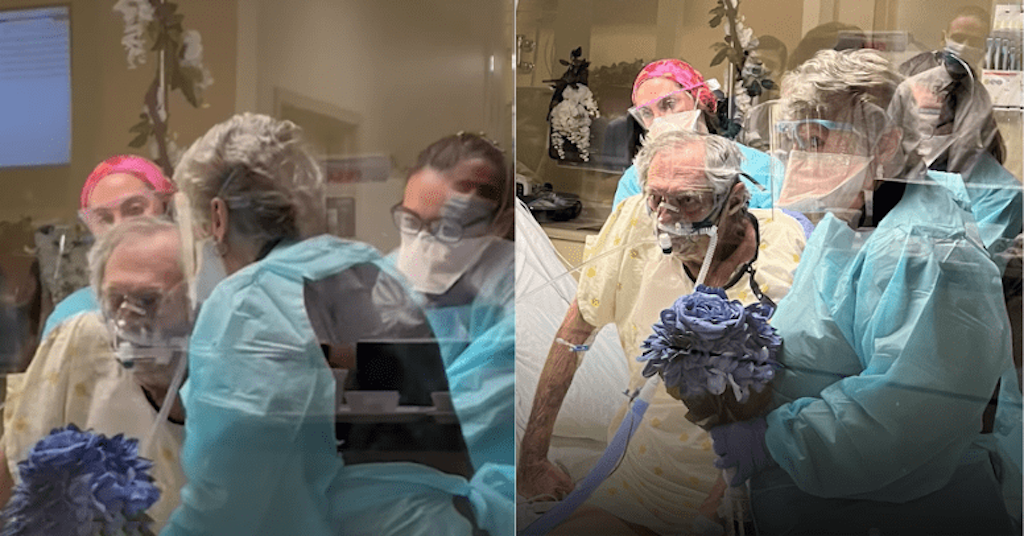 A 75-year-old terminally ill man, who developed pneumonia after contracting COVID-19, was able to remarry the love of his life just two days before his death. The couple had been long-time sweethearts whose marriage ended in divorce decades ago. But before he took his last breath, the hospital staff made sure that he exchanged marital vows with his one true love in a hospital room.
The adorable couple from Nevada, Eddie and Patty, first tied the knot back in the 1970s when they were "young and stupid." But after just a year, they realized that their marriage wasn't working out and thus parted ways. Over the years, Patty and Eddie maintained only a little contact as they moved on separately. But then one day, five years ago, they re-entered each other's lives, according to reports.
Patty had decided to send her former husband a message congratulating him on his birthday out of the blue. "Happy birthday to my favorite ex-husband," she wrote totally unaware that sparks were about the fly between them once again. The two decided to have dinner together and in no time they fell back in love. 
But then Eddie, who served in the military for 33 years, was diagnosed with cancer in October 2021. He also contracted COVID-19 which led to the development of bacterial pneumonia and it landed him in the ICU, according to reports. Despite his worsening condition, he just had one thing in mind, his love Patty. Thus on January 24, he messaged his now-wife and asked if she would make him the luckiest man in the world by marrying him again. And she said yes.
Due to Eddie's contagious illness, the pair was not allowed to see each other in person and so the two began looking for a way to have a "long-distance" wedding. When MountainView Hospital, where the 75-year-old had been staying, learned about their plans, they decided to intervene and make an exception for the special ceremony. The staff at the hospital decorated the room with artificial flowers and wrote "Just Married" on the wall of Eddie's hospital room.
Two lovebirds tied the knot with the wedding music playing in the background from someone's phone. The hospital's Chief of Medicine, Dr. Jacqueline King, served as the witness while an officiant read their vows and pronounced them husband and wife from behind the safety of a glass door. 
"We hope this day was an unforgettable experience for Eddie and Patricia," shared MountainView CEO, Julie Taylor. "This is proof that love prevails, and that people are stronger together and that there are joyful moments amidst the challenges. It was our pleasure to celebrate with them and share in their joy." On January 28, Eddie passed away just two days after his big day surrounded by his family.