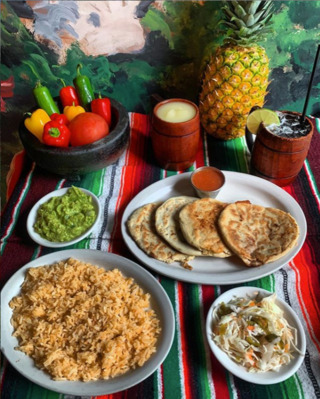 If you follow the main East Nashville Facebook group, there are a couple of things you know for certain: Those folks love to play "gunshots or fireworks?"; they hate brown recluse spiders; and they love them some El Fuego Restaurante, the Inglewood Latin America eatery owned by an affable young Ecuadorian named Jose Merchan. Until recently, the restaurant was located at 3249 Gallatin Pike, but as of late this week, operations have relocated to 3917 Gallatin Pike.
This move is a bit of a homecoming for Merchan, as he actually lived in the building back when he first moved to Nashville in 2006. The address was a dentist's office at the time, and a friend let Merchan sleep on a cot in a spare room that he rented from the building's landlord. Fast forward to today, and the young entrepreneur has converted his former home from its latest incarnation as a church meeting facility into a vibrant new Latin American restaurant.
Merchan grew up in a tiny impoverished town high in the Andes in Ecuador, where he got his first taste of the food business helping out his father, who worked as a butcher in the pueblo of Pucara. He eventually moved to the larger city of Cuenca to attend high school before deciding he wanted to move to the U.S. "When you think of the United States," Merchan explains, "you picture some sort of heaven." What he quickly discovered, though, was that he had some more learning to do.
"I went to a restaurant," he recalls, "and pointed to something on the menu that I couldn't read, and I thought the server pointed to the same thing, but she brought me something different. I didn't know how to tell it it was the wrong dish, so I ate it. Then I decided I needed to learn to speak English."
He started to take some English classes at church, and even though he was already a high school graduate, he began to study for a GED. After earning that, he enrolled in college to learn how to be an airplane mechanic. He had always loved aviation, something he attributes to living high in the mountains, basically in the flight path.
Merchan is still a certified aircraft mechanic, but he found his life's calling working as an assistant manager at Las Fiestas Mexican Restaurant in Inglewood. "I enjoy the chance to have fun with people," he explains. "It doesn't feel like a job, and I don't count the hours on the clock." After being promoted and working as the general manager at Las Fiestas for three years, Mechan took his savings and bought the restaurant that would become El Fuego in 2018.
The small spot attracted big crowds for house-made margaritas and delicious food that was unfamiliar to many Nashvillians. "When you came in El Fuego, you thought you were in a Mexican restaurant," explains Merchan. "But then if you explored the menu, you discovered it's different." In addition to typical Mexican fare, Merchan snuck in fun Ecuadorian touches like serving aji chile hot sauce with his chips and salsa, and a popular De Galapagos Salad, which he describes on the menu as "a fresh South American salad served with grilled shrimp, onions, tomatoes, lime and love."At his new expanded space, Merchan plans to offer only carryout service for the time being, but the property features a large outdoor garden which he has augmented with picnic tables for customers who want to sit down and enjoy their to-go meal without actually going anywhere. He also hopes to plant fruit trees, herbs and vegetables to use in the bar and kitchen.
Normal hours would be 11 a.m.-10 p.m. Sunday through Thursday with closing time an hour later on Friday and Saturday, but current pandemic regulations call for 10 o'clock last call every night. If you're looking for food and drinks made with fresh ingredients and want to support a real local success story, drop by El Fuego and ask for Jose. He's full of stories, and he knows how to shake up a mean margarita!