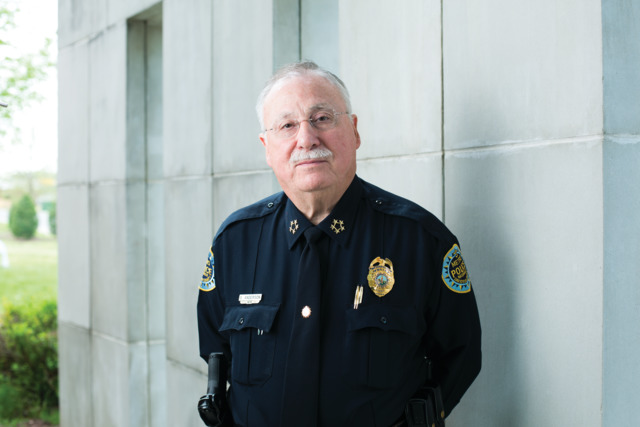 When Mayor John Cooper announced on June 18 that Metro Nashville Police Chief Steve Anderson would be retiring, it came as a surprise, but not a shock.
Anderson, who has been chief for a decade and in the Nashville department for more than 40 years, has faced calls for his resignation or firing at multiple points over the past few years. He had become widely seen, both inside and outside of Metro government, as the primary obstacle to substantive change and innovation in the way Nashville approaches policing and public safety. In recent weeks, the calls for his removal — from community activists and at least 15 Metro councilmembers — had reached such a pitch that it seemed untenable for him to stay much longer. Still, the mayor had appeared to back him publicly and gave no indication that a change was imminent. Even the city's other criminal justice officials were not given a heads-up before Anderson's retirement was announced.
Now, with COVID-19 cases surging and protests against racism and police brutality ongoing, the mayor is preparing to make a hire that is likely to have significant and lasting effects on the city. The situation is further complicated by the fact that Anderson will remain in place until at least October, meaning Nashville will have a lame-duck police chief until the fall.
One Metro Nashville Police Department veteran and one longtime officer who is still on the force tell the Scene that the news of Anderson's impending departure was greeted by many officers with joy and relief — tempered with wariness about the fact that he will still be in charge for months to come. Anderson has long faced dissent among the rank-and-file, but he filled the upper levels of the department with loyalists who largely share his view of policing and how to run the department. Sources who spoke to the Scene on the condition of anonymity said officers were watching closely to see what moves Anderson would make following the announcement, and what effect those moves would have on the department's internal politics.
A slew of those moves came last week. Anderson promoted Cmdr. Kay Lokey to deputy chief, overseeing the department's Administrative Services Bureau. It's a significant post that, according to a department release, "consists of the Crime Laboratory & Crime Scene Investigations, Training Division, Human Resources Division (including recruitment), Behavioral Health Services, Information/Technology Division, and the Records Division." The appointment of Lokey to such a high-ranking position caught the attention of Metro insiders. The 23-year MNPD veteran is implicated in a pending federal lawsuit against the department by Ada Thaxter, a Black former MNPD lieutenant. In the suit, Thaxter accuses Lokey of fostering a hostile work environment at the Midtown Hills Precinct, ignoring Thaxter's complaint of sexual harassment by another officer and retaliating against Thaxter "for properly doing her job." Thaxter's credibility has also been called into question, it should be noted. Lokey filed a complaint against her for "untruthfulness," and she was later indicted on forgery charges in 2016 for allegedly claiming to be then-Fraternal Order of Police president Danny Hale in letters the department said "disparaged various members of the MNPD." Those charges appear to have been dismissed and expunged, as the Criminal Court Clerk has no record of them.
To take over Lokey's post at the Midtown Hills Precinct, Anderson appointed Capt. Dwayne Greene, a 19-year veteran of the department. Lt. Josh Blaisdell, also a 19-year veteran, was promoted to captain and will follow Greene in the role of overnight field supervisor. In addition, 10 more promotions were announced, moving two sergeants to the rank of lieutenant and eight police officers to the rank of sergeant. In the department release announcing the promotions, Anderson noted that the 12 people being promoted "have a combined total of 125 years of community experiences as police officers in Nashville."
It's obvious why experience is seen as an asset when it comes to leadership roles. But as Nashville's police department is entering a transition — and under intense scrutiny — the mass promotion of department veterans struck some skeptical insiders as the solidification of an institution in need of systemic change. Observers inside Metro who spoke to the Scene wonder whether the moves were tea leaves to be read. Was Anderson acting with a belief that the new chief would be hired from within the department? If not, might a new chief be better positioned to succeed if allowed to fill leadership roles on their own?
When he announced Anderson's retirement, Cooper said there would be a "national search" to find his replacement. He also said his office would "organize input from the entire community as we find the right leader for this next chapter of community safety in Nashville." The Community Oversight Board said in a statement following the retirement announcement that its members looked forward to being involved in the process, and that the "voice of the community must be reflected early and often." Nashville's other criminal justice leaders — including District Attorney Glenn Funk, Sheriff Daron Hall and Public Defender Martesha Johnson — are also certain to have opinions about where the MNPD goes next. But as of this writing, sources say the mayor's office has not reached out to them to discuss the next chief.
Hall tells the Scene that while the role of police chief is the mayor's to fill, he intends to make it clear that he wants someone he can collaborate with on reform-minded initiatives, like the new  Behavioral Care Center meant to facilitate the decriminalization of mental illness. Hall says he had some success working with Anderson on recent issues, like decreasing misdemeanor arrests to lower the jail population during the coronavirus pandemic. But he also describes Anderson as "maybe not the easiest guy in the world as a chief of police for creativity and change."
"I think the national search is the right idea, to open up for that," Hall says. "I know there's some local folks that are qualified, so for the community's sake I think that's important. I think the real test for the city is how much change are you interested in and willing to do?"
One internal candidate whose name was the first one cited by Metro insiders is Deputy Chief John Drake, who was recently promoted. Drake is Black and has spent his entire 32-year career in Nashville.
Hall, a veteran insider himself who has been Nashville's sheriff since 2002, says he's not sure most Nashvillians want change as dramatic as what's being called for on the streets. But if they do, he says he doubts it will come from within.
"Drastic change is very difficult to do, I think, from inside the system, someone who grew up in the system," Hall says. "But I'm not convinced the entire city wants drastic change. I think we need someone willing to make change and to be flexible and creative, but I think if you're asking for dramatic change, I think that's very difficult from the inside."