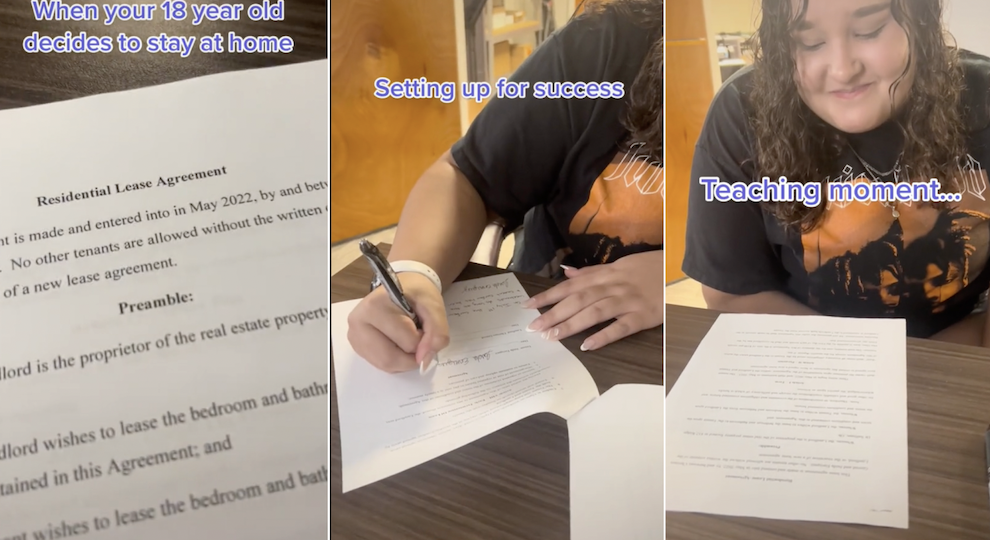 Mother faced criticism from her followers after she reportedly 'forced' her teenage daughter to sign a lease and pay rent in order to keep living at home. The woman shared video on her social media account, showing her 18-year-old daughter signing some paperwork. Now, the 18-year-old teen must pay $100 per month. Many of her followers said that this is wrong and it may do irreparable long-term damage to their relationship. The woman made another video for her critics with and explained herself.
After the first video, the mother, who was not identified, faced criticism. So, she decided to post another video and attempted to explain to her followers why she made her daughter sign a lease. The mother reportedly made her 18-year-old daughter Jada sign a $100-per-month lease in order to continue living at home. In the first video, the mom recorded her daughter signing a legal lease agreement and posted it with the caption 'When your 18-year-old decides to stay at home'. 
Many of her followers said that this is wrong. Many of her followers commented that this may do irreparable long-term damage to their relationship. One of her followers reportedly wrote: "Yikes my parents did this to me and it only created trauma for me. Thankfully I made eight figures and don't have to struggle any longer." Another user commented: "My parents did this and we no longer talk! So good luck I guess." Third user commented: "Unless you're saving that money to give them when they do move out, no way. I'd like to see an 18-year-old have a job pays enough to live in this economy." "I'm glad my parents love me lmao", another user said. "I could understand after college or something but fresh out of high school I would just leave and never talk to my mom again," added another user.  
But, the mother made another follow-up video and explained herself. In the second video, she reportedly said: "I was a single mum at 16 and my parents didn't set me up for success. I had to fight for every single thing I have." The unidentified mother from Oklahoma also said that she didn't want her kids to depend on her and was simply doing everything she can to prepare them for the real world. The mother also added that her daughter's rent goes towards utilities, room, food and everything else. "That's the only bill Jada pays, no car payment, no insurance, no cellphone bill," the mother reportedly said.
The 18-year-old teen also made video and explained to that she found it difficult to comprehend the condition at first but came round to the idea. The teen said that at some point, she will have to pay for her own home at some point and her mother is getting her ready for that. She also asked her mother's followers not to judge. In the beginning of the video, the 18-year-old noted that the idea of singing a lease to live at home was hard for her to comprehend, but said she soon came around to the idea as she'll have to pay rent once she moves out sooner or later.