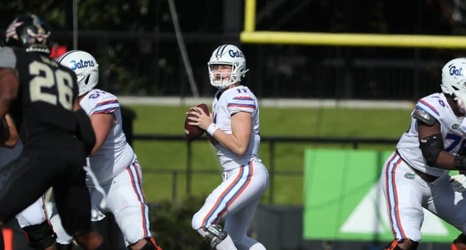 It was an 11 am local kickoff pitting a 6-1 team with a Heisman hopeful and National Championship aspirations against a winless opponent just looking to stay competitive. For much of the first half, it was hard to tell which team was which.
The Florida Gators pulled out a win Saturday in Nashville, but it wasn't the dominating win most predicted and it certainly wasn't as good as the Gators have looked this season.
Vanderbilt had been outscored 66-3 in the first quarter of games in 2020 but after the first 15 minutes, Saturday the 'Dores held a 10-6 lead.
"I don't know that we had our best week of practice this week. Not attitude-wise, I just kind of thought we were a little bit blah a couple of the days, two of the days, a couple of days of the practice, not as sharp, not as crisp with everything we were doing," Dan Mullen said after the game. "That was kind of top to bottom. I think at times we came out here and played. It was kind of we had a good day and then a bad day, a good day and then a bad day of practice this week, and it kind of looked that way offensively and defensively. A good drive, a bad drive, a good drive, a bad drive. So I'm really pleased with our guys finding a way to win and suck it up and be good enough to win and make the plays we need to win despite not playing at our top, our best for the entire game."
It's true even of the offense. After Vanderbilt drove down the field to score on its first drive the Gators offense responded, as they have all season. Vanderbilt drained 5:02 off the clock during a 12-play drive that resulted in a field goal and the Gators punted on its next two drives. This is a Florida offense that put up more Ethan 1,500 yards in their last three games, including 571 against Georgia and 593 against Arkansas, struggling to move the ball and put up points against Vanderbilt — the 12th ranked scoring defense in the SEC.
The offense would figure things out. They have been as dependable as any offense in the country and maybe even as dependable as any Florida offense in history. Florida finished the game with 38 points, giving them 313. That's the third-highest point total through seven games in school history, trailing only the 1994 (339 points) and 1996 (366 points) offenses. Florida has also scored at least 35 points in nine consecutive games, a new school record.
Kyle Trask continued to tear up record books. His 31 touchdown passes in seven games are more than any SEC quarterback has had in their first seven games. He's already, in just seven games, thrown for more touchdowns than the entire Gators offenses were able to in 2018, 2017, 2016, 2015, 2014, 2013, 2012, 2010, and 2009. He's Two off of beating Florida's team passing touchdowns in 2019 and 2008, as well. His streak of consecutive 300-yard passing games was extended to five games, second-best in school history, and yet, Trask wasn't thrilled with her play on Saturday. "We knew they were going to be playing a lot of drop eight zones and we were going to have to find open windows and try to pick them apart," Trask said. "I think I did a decent job, being on the same page with my guys."
This issue, and if you've made it this far in the story you'll roll your eyes at the rest of the sentence, isn't the offense. The Florida defense was, after two solid performances, once again an issue on Saturday.