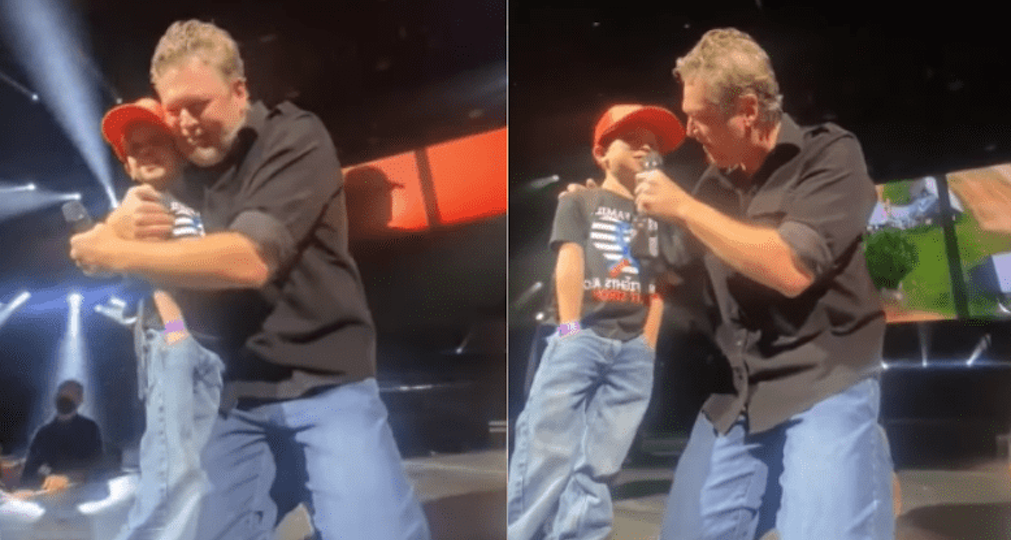 On Saturday, Blake Shelton performed a very special duet with a special partner. The country crooner invited 6-year-old boy onto the stage during his concert in Oklahoma. The two then sang a beautiful rendition of God's Country together. The singer's sweet gesture touched the boy's family as they knew just how significant the moment must have been for the boy, who had hypoplastic left heart syndrome.
According to reports, it's a complex and rare condition where the "left side of the heart is critically underdeveloped."
The boy's, Wyatt McKee, mother, Harley Wyatt, shared the precious moment on Facebook where McKee can be adorably seen telling his name to Shelton. Wyatt had been holding up a sign all this time the Come Back As A Country Boy singer eventually read and then asked him if he could sing God's Country with him. "Your smallest, biggest fan from Lake Texoma, 6 years old waiting on a heart transplant," read the sign. 
"Think y'all are having a bad day? Put that in perspective right there, man," said The Voice coach to his audience pointing at Wyatt's condition. Soon after, the two began singing the song together. After a few minutes of singing, the audience cheered the boy on as he headed back to his seat. "Y'all give a big hand for my friend Wyatt!" said Shelton. 
As for the video shared by Wyatt's mother Harley, it had a touching caption that read, "I don't know if Blake Shelton will ever see this but I just want to let him know he is awesome and officially my favorite person he absolutely made Wyatt's day thank you so much to him and everyone who stopped us to tell him how great he was on stage and told him they are praying for him!!! Definitely a night to remember!!! #WyattStrong."
The Grammy winner too retweeted a video of the moment writing, "This little buddy made my night. Thank you for singing 'God's Country' with me Wyatt!" Harley posted the video four weeks after sharing another which captured little Wyatt's reaction on hearing that he was going to be attending Shelton's concert. The mother revealed that her son has already had two open-heart surgeries and that he is on a transplant list.
Wyatt is also on "new medication that requires him to have a long term IV in his arm and a backpack with medicine that runs continuously." Recalling the moment Shelton invited her son on stage, she said that she couldn't hold back her tears. "He got to do something that he really, really loved and really wanted to do. It's a pretty big deal," she shared.